K&N Management Replay Instructions
To access the Replay system, click Admin Login
As a shop becomes available for scoring, it can be located in "Hold B" status.  After scoring, Scorer will move status to "Finalized".
Click "Logs"
Select "K&N Management: All", using drop down arrow under "Survey:"
Select "Hold B" using drop down arrow under "Status", "Show Status"
Click "GO" button on right
Click "Up Arrow" under "Shop" to organize list by scoring priority.
Click "Review" next to the desired Shop.    Note:  If another Scorer is scoring that shop, the message below will pop up.  Close out of that shop and move down to the next.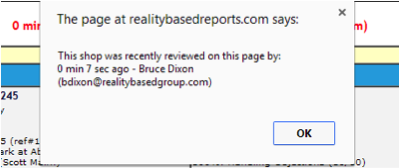 Scroll to "Watch the Video".  Copy / paste link to new browser window

Score shop accordingly
Select "Reviewed" using drop down arrow under "REVIEWER CONTROLS", "* SHOP STATUS".

Click "Update Survey" button at bottom of Survey
Let's start a project, get in touch, or just say, "Hello!"