Gas Stations and Convenience Stores Mystery Shopping | Improve Customer Experience using Marketing Research Solutions
Gas stations and convenience stores (C-Stores) are competitive and the customer service experience is becoming vitally important to maintain an advantage.
How do you ensure the best customer experience to stay competitive? Do you have actionable goals and the data to achieve them?
Use Reality Based Group's decades of expertise in mystery shopping to get the data, coaching, and support to meet your goals.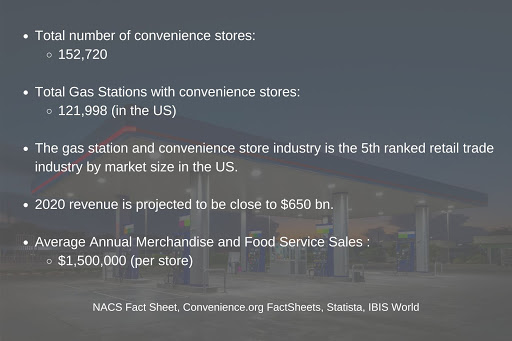 Customers are spending and they are looking for an experience that is: fast, safe, clean, and efficient. Ensuring the customer experience is as easy and positive as possible helps you drive revenue, improve customer loyalty and increase profit.
According to IBIS World, the largest opportunity for growth lies with increased spending on convenience store items, such as food and drinks. Carrying what consumers want is half the picture.
What's your gas Stations and C-store customer's experience?
Do your customers have an experience that keeps them coming back? Do you know how your customers think and more importantly feel about your store? Do you have actionable goals that bring tangible results?
At Reality Based Group, we give you the experience, coaching, data analysis and expertise to guarantee that the customer experience is the best possible for your business. 
Our individually tailored convenience store mystery shopping programs are designed to fit your culture and meet your needs. 
Learn More »
Measurable and Actionable Goals | The Game Plan
First, we work with you to design a game plan. This is fully customizable to your store, culture, and needs. We really want to understand your goals. What do you want to accomplish? What goals will actually get you there?

We then use your knowledge of customer service to guide you and craft a mystery shop that will really work for you and your brand. 
We help you decide which type of solution will serve you best. Then, we narrow the data points that measure what matters most to you and supports your goals. 
Score Card & Data Analysis
We design a scorecard to collect the data that supports your goals. Each scorecard can be individually adjusted for different locations. For example if one location sells craft beer and another does not. Or one location provides fuel and another does not.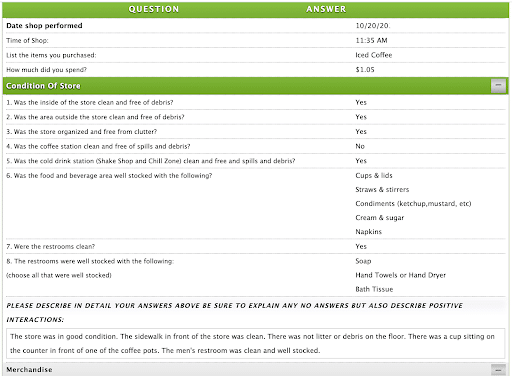 We help you analyze the data to use for training and coaching. We use our customized reports to easily identify areas for improvement and to set progressive measurable objectives to support your goals.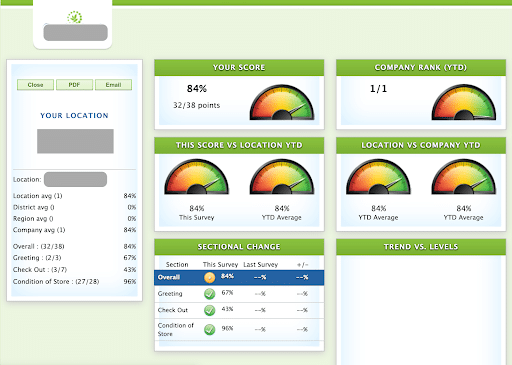 Our online dashboard provides 24/7 access, real-time notification, and a suite of other tools.
Coaching Guide – Sets RBG apart
We provide guided employee training and coaching to your management, which sets our gas station and convenience store mystery shops apart. We focus on actionable, revenue-driving behaviors through every step of our process. 
We keep the focus on what your employees are doing well and where they can improve. Our decades of experience and research support keeping the training experience positive.
The coaching guide really helps the management create a positive coaching environment to use the data and analysis to improve the team, store, culture, and customer experience. 
For example: 
"When leading your GamePlan coaching meetings, employee engagement is key to bringing the results you want. Always let your employees come up with answers before sharing your own … Remember, it is essential that you are professional, firm, and fair in your coaching meetings."
Using one of our tailored solutions like GameFilm® (video mystery shopping), written mystery shopping, phone mystery shopping, customer satisfaction surveys and more we will help you set yourself apart from the competition.
Gas Stations and Convenience Stores Insights & Solutions
A gas station mystery shopping company like RBG can collect actionable data, capable of improving your bottom line and giving you the ROI you want.
You know all too well that competition is fiercer than ever. You need a partner you can count on to attain your objectives.
You need a customer experience partner like RBG.
Customer Experience Solutions / Products:
Why Choose RBG over other Gas Station and Convenience Store Mystery Shopping Programs?
At RBG, all our programs are uniquely created for your business and your exact needs. Furthermore, with over twenty years of experience providing gas station mystery shops, you can rest assured we've seen it and done it all before and possess the expertise to transform your customer experience. 
Our powerful training and coaching tools will help you evaluate actionable, revenue-driving behaviors from a holistic angle, which means both you and your employees understand exactly what they're working towards. Fulfill your goals with the expertise of RBG.
We recognize that your success is truly our success and we are constantly looking for ways to improve both our processes and yours. You need a customer experience partner willing to consistently push the envelope, so you can meet the demands of your ever-changing industry and customers. 
Get In Touch With Us »