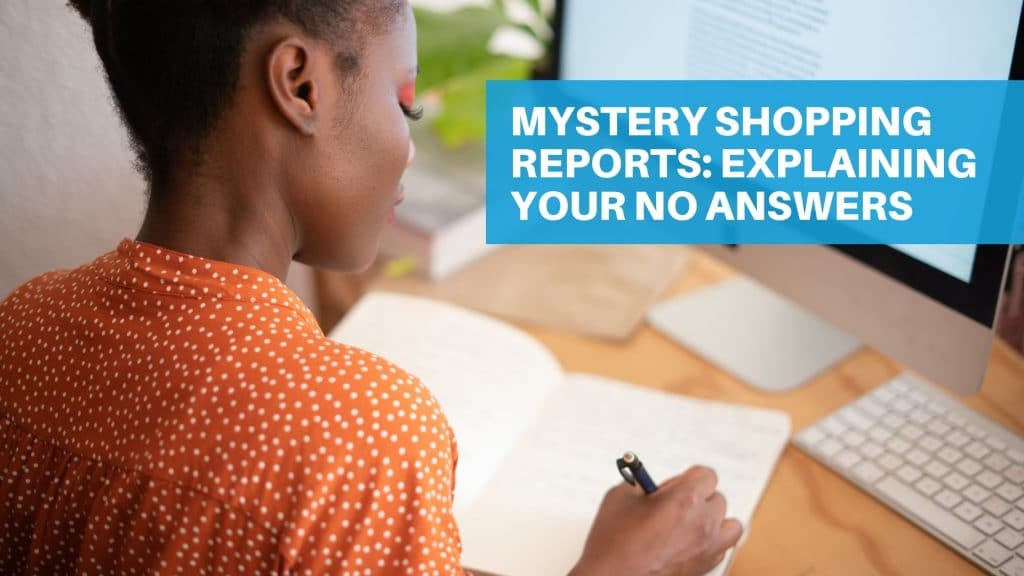 One of the questions we get the most often from shoppers is regarding their grades. Our shoppers are top of the line, and most of them will get a grade of 10/10 points on their shops. If we see something that could use improvement, our Quality Assurance editing team will generally lower that grade by a point or two, and you'll get feedback on exactly why that happened.
To drill down even further into this question, let's look at one of the report writing methods that all of our most seasoned veterans use, and which is required on a majority of our shops:
Explaining No Answers.
Reality Based Group may be one of the few companies that requires this particular aspect of report quality from our shoppers, so this instruction may be new to you if you have done mystery shopping for other MSPs. However, it is one of the ways that our shoppers stand out above the rest!
Yes/No Question Types
To demonstrate, here's an example:
For this retail shop, the shopper was asked to observe the dressing rooms and answer whether they were both clean and free from merchandise. Some shoppers might stop here and move on. However, an experienced shopper knows that this needs to be explained. If this question is answered No, does that mean the dressing room was dirty but had no merchandise? Does that mean that the dressing room was clean, but there were clothes left in it? Or does it mean that it was both dirty AND had clothes left in it?
Luckily, an experienced shopper filled out the report, so we know exactly what happened:
So this shopper mentions that there were no clothes left in the dressing room, but there were tickets and pieces of paper and debris on the floor. This tells the client that they have to train their employees to check the floor for debris, not just clothing, when they do a dressing room check.
So what would happen if we had a different type a question, one that seemed even more obvious? For example, you will often see a question that asks, "Did the associate smile?" This is a yes or no question and doesn't require much description – however, you are still required to explain your No answers. After all, human error does happen – the client might say that that associate always smiles, and ask if the shopper clicked No by accident.
The quickest and easiest way to answer that is to state, in your narrative, "The associate did not smile." This confirms for the client the "no" answer is intentional and not an oversight. It means less work for you in the long run, since that way you are less likely to get emails from our clients asking whether you were sure about this answer or that answer.
Other Question Types
Now, what if you are not explaining a simple Yes or No answer? Well, that depends. In the FAQ, it states, "be sure that your narratives explain any negative/No answers and unchecked boxes." This is because these shops are scored, and for anything that is considered negative for the client (lack of a smile, missing an opportunity to offer you an additional item), the client loses points on that score.
This means that, if you notice that a Yes answer is negative, you should try and explain it in your narrative as a general rule. For example, a question on your report asks, "Was the floor dirty?" This means that the "right" answer, at least for the client, is No. You would NOT need to explain this No answer, but you WOULD need to explain a Yes answer to this question.
Another question type is a checkbox:
The above is an example of a shopper who explained their Checkbox selection correctly. Often, our editors state that shoppers will mark only one box of a checkbox selection like the above, even though the narrative they wrote contradicts it. So be wary of checkbox questions! Always explain your unchecked boxes.
In the end, explaining your No answers is in the best interest of the client, as they are the ones who decide whether a shop is valuable to them or not. The more clear, unbiased information we have in the shops that we send to them, the more valuable the shops, and the more shopping opportunities there will be for you!
Read our blog post on Mystery Shopping Report Details to learn more.
Remember, if you ever have a question about how to apply this requirement to the shop you are currently working on, you can always ask your scheduler or editor. Our team is dedicated to helping you submit the best shop report you can write. And as always, thank you for shopping with RBG!
Mystery Shopping FAQ: A Deeper Dive is a blog post series just for our mystery shoppers which takes frequently asked mystery shopping questions and drills down into all of the details. If you have a question and you'd like to see it added to this blog series, please let us know in the comments, or by filling out the contact form here: Email Us! We'd love to hear from you!
Get Started
More Undefeated Content